World-Class Kitesurf School in Dakhla
Our kite school is powered by cutting edge equipment from North – we only offer the best. Plus, our highly qualified team is on hand throughout your stay to help organise the best kite experience for you.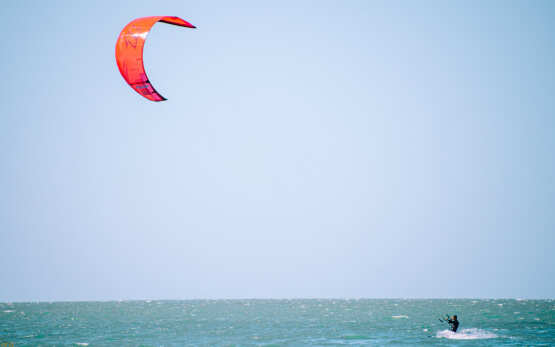 From beginners to advanced riders, we can teach all levels and offer something for everyone. We can offer you the choice to make fast gains with individual courses where you are one on one with an instructor and the lesson is tailored specifically for you. For those that come with a friend or partner there is the option of semi-private lessons where you share an instructor. Your time isn't wasted being shared as you get to learn from each other along the way.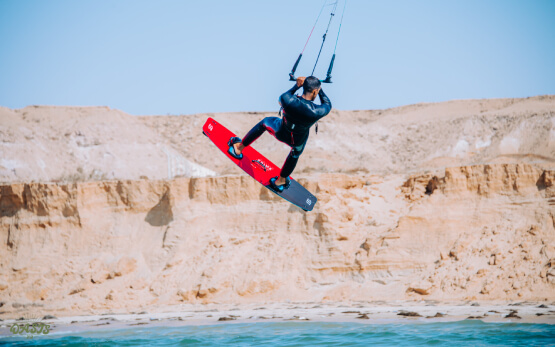 Group lessons are perfect for families that want to share their advancement together as a team. Students that take a course with us can have their level certified in the process.

For those who are more experienced and independent riders, we can offer coaching where we tweak your technique to help you stay fresh and looking fly. We also offer you Downwinds and Kite trips and the chance to discover the "spot du jour" with our selection of the very best kitesurf spots just for you with 5 spots in 5 days. At all times you'll be accompanied with a security boat for your peace of mind.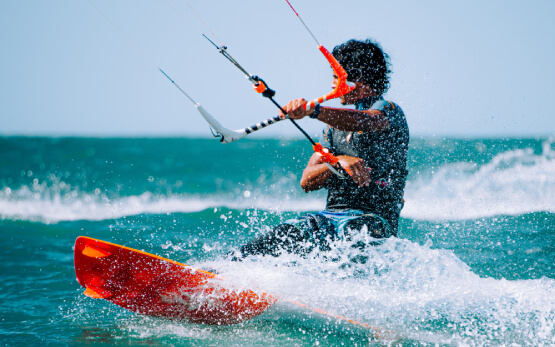 EXTRAS:
Hone your board skills and balance by trying out wakeboarding. Wanting to take a slightly gentler pace? - thenSUP (Stand Up Paddle) is the choice for you. Float yourself downwind, putting in as much or as little effort as you like, and take in the majestic scenery of the dunes while dolphin spotting on the way.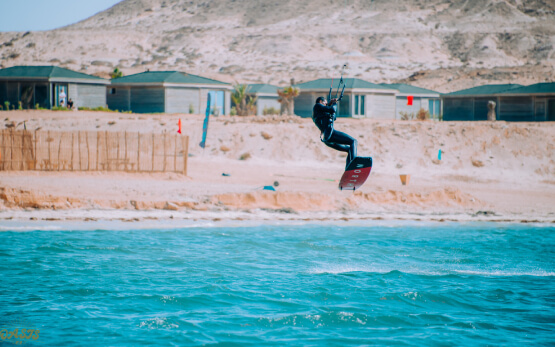 Surf:
During the winter months Dakhla has some of the last secret surf spots in Morocco. Take on a 4x4 voyage of discovery and join our team on a surf safari for unrivalled right handers. There's something for all levels.
Beach volleyball:
For team building or family rivalry, try your hand at beach volleyball. A universal game where everyone knows the rules, why not try setting up a quick-fire tournament!
Whatever it is that floats your boat we've got you covered for your dream water sports get away.
---
Rates per person for Kitesurf / Strapless lessons all inclusive
PRIVATE

2h

180 €

4h

310 €

6h

460 €

8h

610 €

10h

760 €

12h

900 €

1 additional hour
after 12 p.m

70 €
---
SEMI-PRIVATE

2h

110 €

4h

210 €

6h

310 €

8h

410 €

10h

480 €

12h

540 €

1 additional hour
after 12 p.m

44 €
---
GROUP

2h

80 €

4h

160 €

6h

240 €

8h

300 €

10h

360 €

12h

420 €

1 additional hour
after 12 p.m

34 €
---
Group = 4 people with 2 materials and 1 instructor
Price of Surf Lessons (Excluding transport)
| | PRIVATE | SEMI-PRIVATE | GROUP |
| --- | --- | --- | --- |
| 2h | 100 € | 80 € | 60 € |
SURF BOARD RENTAL Surf board rental
| | PRIVATE | SEMI-PRIVATE |
| --- | --- | --- |
| 2h | 15 € | 8 € |
Foil / Wingfoil Course Prices
PRIVATE

SEMI-PRIVATE

GROUP

2h

200 €

120 €

90 €

4h

350 €

230 €

160 €

6h

500 €

340 €

230 €

8h

660 €

440 €

310 €

10h

820 €

520 €

380 €

1 additional hour

75 €

50 €

35 €
Insurance
| | PACK |
| --- | --- |
| 1 Day | 20 € |
| 2 Day | 38 € |
| 3 Day | 56 € |
| | 1 additional day |
| | 18 € |
---
| | KITE+BAR |
| --- | --- |
| 1 Day | 15 € |
| 2 Day | 30 € |
| 3 Day | 45 € |
| | 1 additional day |
| | 15 € |
---
| | TWINTIP BOARD |
| --- | --- |
| 1 Day | 10 € |
| 2 Day | 20 € |
| 3 Day | 30 € |
| | 1 additional day |
| | 10 € |
---
| | STRAPLESS BOARD |
| --- | --- |
| 1 Day | 12 € |
| 2 Day | 22 € |
| 3 Day | 32 € |
| | 1 additional day |
| | 12 € |
---
The insurance does not cover the loss of equipment, navigation in another spot, or equipment out of service
Sup / Kayak rental
| | PRIVATE | SEMI-PRIVATE |
| --- | --- | --- |
| 1/2 Day | 16 € | 10 € |
| 1 Day | 26 € | 20 € |
Kitesurf equipment rental
| | PACK |
| --- | --- |
| 1 Day | 70 € |
| 2 Day | 135 € |
| 3 Day | 200 € |
---
| | KITE+BAR |
| --- | --- |
| 1 Day | 50 € |
| 2 Day | 100 € |
| 3 Day | 140 € |
| | 1 additional day |
| | 40 € |
---
| | TWINTIP BOARD |
| --- | --- |
| 1 Day | 30 € |
| 2 Day | 60 € |
| 3 Day | 80 € |
| | 1 additional day |
| | 26 € |
---
| | STRAPLESS BOARD |
| --- | --- |
| 1 Day | 36 € |
| 2 Day | 70 € |
| 3 Day | 100 € |
| | 1 additional day |
| | 30 € |
Rental Accessories
| | 1 Day |
| --- | --- |
| WETSUIT | 10 € |
| HARNESS/LEASH | 8 € |
| HELMET | 4 € |
| SLIPPERS | 4 € |
| VEST | 6 € |
| EVERYTHING | 20 € |
---
Storage of personal and safety equipment 10 Euros per day and per person
Lessons open from 8 years old - Exclusively in private lessons (until the age of 15)
Ability to swim (at least 150m)