An Unforgettable Beachfront Stay in Dakhla
Dakhla is nestled on a unique 40km peninsular in the south of Morocco, close to the Tropic of Cancer, where the sea meets the Sahara. With the Atlantic on one side and a vast flat-water lagoon on the other it's no surprise that Dakhla is consistently voted a top 10 worldwide destination for Kitesurfing.

A year-round haven for water sports enthusiasts with an average of 300+ kiting days with temperatures stabilised in the mid 20s. Onshore the shifting sands of the vast Sahara offer the opportunity to head off on a voyage of discovery by 4x4 along the ancient camel train routes, hunt for fossils, take in a natural thermal power shower and to discover unique fish pools in the middle of the desert. Just a few of the delights waiting to be discovered by you.
OASIS212 : Your Exclusive Camp on the World's Best Kitesurf Lagoon
OASIS212 is located shoreside of one of the world's best kitesurf lagoons, facing across the water towards the city of Dakhla. It's close enough to fly to and yet another world away from the crowds. Your home for the duration of your stay is situated on 160 000 m2 of beautiful coastal desert with the entirety of the beach as private access making it your own personal haven. You'll find your stay is like you're a world away.
BEACH COTTAGES
Constructed out of wood and finished using traditional Moroccan made furnishings, our cottages offer a natural warmth and charm.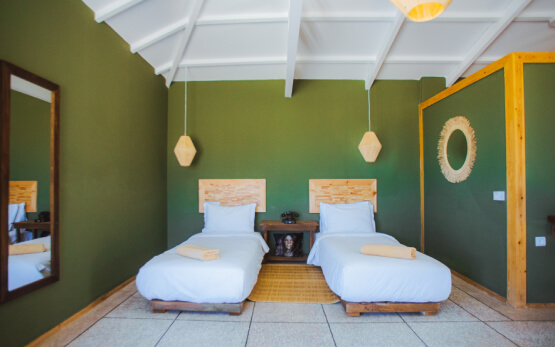 Each cottage is an unrivalled 60 sqm with accommodation for up to 4 people, configured to be a generous space for those flying solo, cosy yet roomy for a couple wanting to get away from it all, ideal for a family of 4 taking a well-earned timeout or a great way for colleagues to experience a team building destination.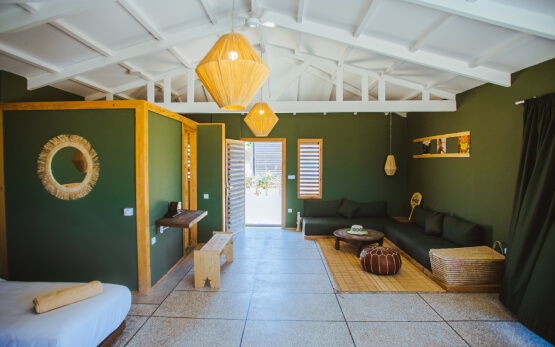 These cottages are generously arranged to offer a home from home feel comprising of a generous sleeping area offering a double bed, a private bathroom with separate shower, towels, and amenities for all your creature comforts, a chilling lounge area with an additional 2 convertible beds, a desk to cater to those who need to work away, safe deposit box, room service, mini bar, picnic table and benches for meals or planning your next excursion and private terrace overlooking the lagoon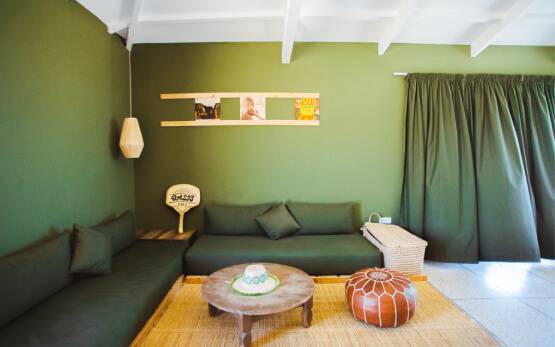 A perfect location for catching a mesmerising sunset after a long day's adventure.

Every cabin offers an exceptional view of the lagoon, with a rare advantage of being able to admire both a sunrise and a sunset.